Do you have a list of your entry and exit points for swing trades?
Hello Marty.  Just wondering if you post current positions.  Entry and exit points?  Like is it to late for ZIM? How far can it extend.
thanks, sony
Sony,
You are making me do some homework😂
Yes! It is not the time to chase ZIM. Let that stock come back to us. If we buy now it is likely we get shaken out on a "normal" pullback. I do believe that stock will trade over $100 this spring/summer.
I bought COST at $535 on Wednesday, March 16 as the DJIA and S&P 500 were having a follow through day. My rule is to buy something on a follow through day, and I was not that confident in this market at that time. COST was at a proper buy point, and a slow moving stocks. I also bought UPRO the same day. UPRO is a tripled leveraged ETF corresponding to the S&P 500.
NASDAQ Friday, March 19 FOLLOW THRU DAY
PANW I bought this stock on Friday as the Nasdaq was having a follow through day. The purchase price of $573.25  was close to its buy point. This is a leading stock in the cybersecurity group for now. I expect it to pull back some as it has made a big run off the bottom. You can see the shakeout in this stock as it traded from $598 on March 1 down to $509 on March 15. It then rallied up more than 10% off the bottom. That is the classic Jesse Livermore shakeout plus three pattern. The stock has rallied from $509 on March 15 to $609 today, and that is why I expect some profit taking soon. A $100 gain in a week is a powerful move, and this stock is one of the stronger stocks.
SQ This was the second stock I bought on Friday, March 18 as it broke above its 50sma. This is not a traditional buy for me. But, the stock was oversold, and the big blue volume bars tells me it is now under accumulation. I believe this stock can rally up to its 200sma ($200.00).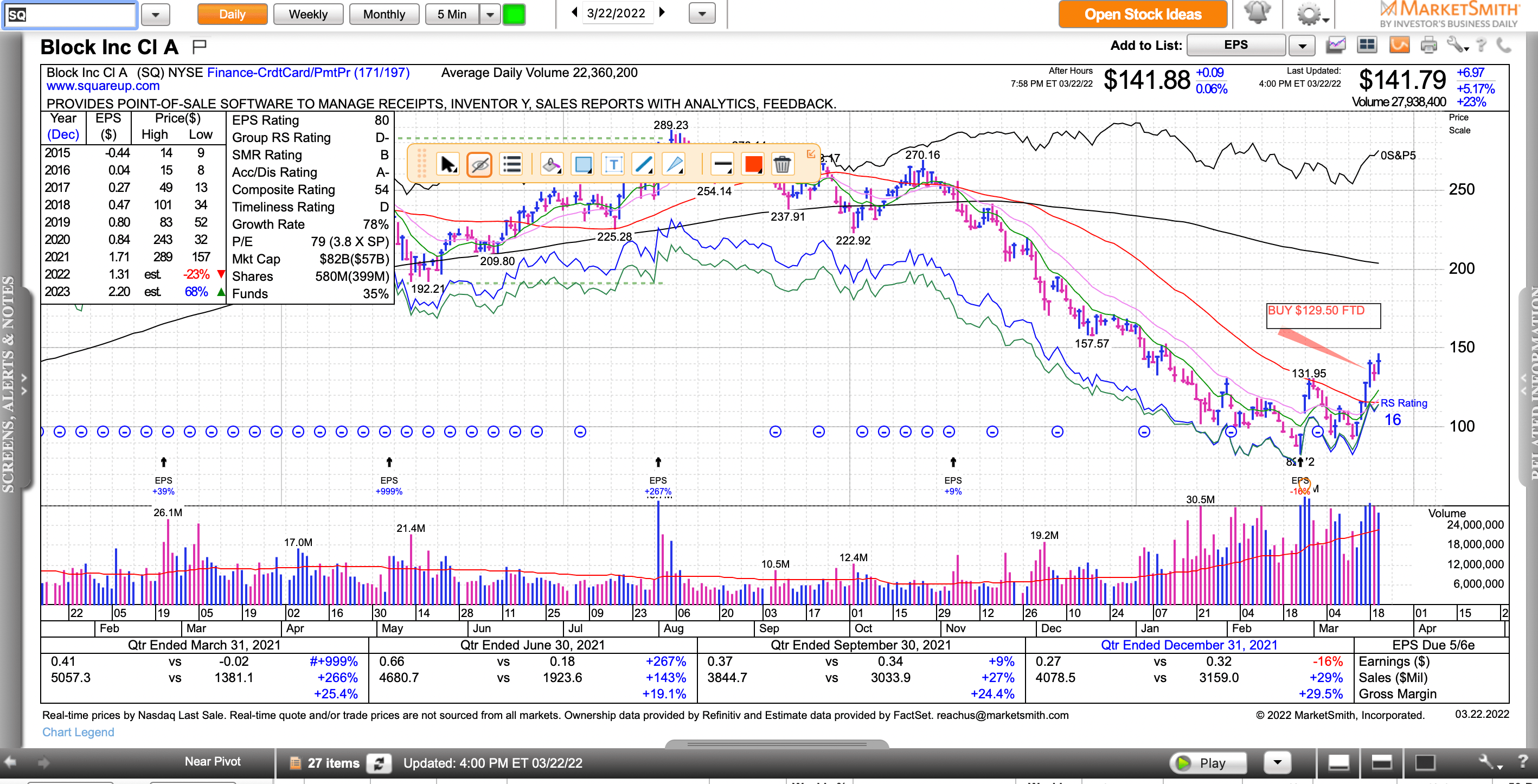 UPST This was another stock I bought at $125.00 on Friday, March 18. It was a most difficult purchase as I was late, and I already bought a similar stock in SQ.  But, I have been discussing this with a few peers whom I respect, and we believe this stock has tremendous potential. It has a low float with few shares outstanding. The low supply makes it move quickly when the demand comes.  I as shaken out this morning as the stock traded down to $112, and had to buy it back after the bounce. My price today is $118.00, and I am much better position to withstand some weakness. I believe a trip to the $160 area is likely.
It is my rule that I buy something when the index makes a follow through day. Even if I do not see any great setup, I must buy something. Typically, I will buy an ETF just to see if the rally is real.
Currently I am 50% invested in my trading account. If this rally forms up I plan to become 75%-80% invested or even higher.
I hope this answers your questions.
Regards,
Marty
1 Subscribers